Welcome to Spicer Bees!
We are a family run business; David & Susan Spicer, Owners; located in Whitefield, Maine; just east of Augusta. As a full service beekeeping supplier, we have everything you need to keep bees (including bees) with the best prices on woodenware in Maine. We carry everything from spring bee packages and NUCS, to queens - including Spicer Queens (northern raised), medicines, protective equipment and the jars to place all your honey in.
Now taking orders for 3 lb. Italian Packages from Rossman's Apiary!!  Expected delivery dates:  April 13/14th, and May 4/5th.  Cost: $120 each.  Check us out on Facebook for updates. Place Your Order!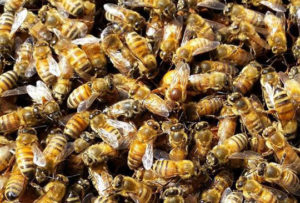 Saturday March 10th, 9am to 2pm (Snow day following day)
Get your apiary ready for spring and join us for our first Annual Spring Open House! Raffles, giveaways, local club information and refreshments will be provided. See our Events page or visit our Facebook page for more information. See you then!
Why Shop at Spicer Bees?
Support – Get your questions answered (during business hours) and emergencies addressed in off hours (ex: equipment to hive that swarm).
Full Service beekeeping supply store.
Best Woodenware Prices in Maine – Assembled and unassembled equipment.
Queens – Caucasians, Italians, Spicer Queens (northern raised). Packages and NUCS available.